Make OCEANUS your partner!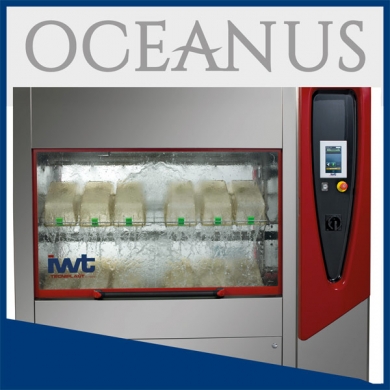 October, 2016

THE NEW IWT OCEANUS CABINET WASHER IS THE IDEAL SOLUTION FOR YOUR NEEDS: CHOOSE IT AS MAIN FLEXIBLE UNIT FOR SMALL VIVARIUMS OR AS PERFORMING BACKUP IN LARGER FACILITIES.
NEW DESIGN TO PERFECTLY COMBINE FUNCTIONALITY, ERGONOMICS AND APPEAL
Oceanus features full glass doors with sash window system, resulting in outstanding operational space savings compared to traditional flap doors, 25% less floor area occupied and 40% less operational footprint with respect to previous generation models. The enhanced visibility is guarantee of full process control and communication through barriers. The thermoformed red panel behaves as a bumper to protect the operator interface as well as an access point to the service area and to the on-board space for detergents storing.
ALL-IN-ONE PERFORMANCE AND EASE OF USE
Oceanus, thanks to the new door concept, avoids the unpleasant pull-out trays and its easier accessibility ensures better operator's ergonomics when approaching the double loading layer. The correct presentation of the load is granted by an embedded inclination kit that can quickly adapt to different loads without the need of removable frames.
The new presentation method permits to accommodate up to 32 mice cages, 40% more than previous models.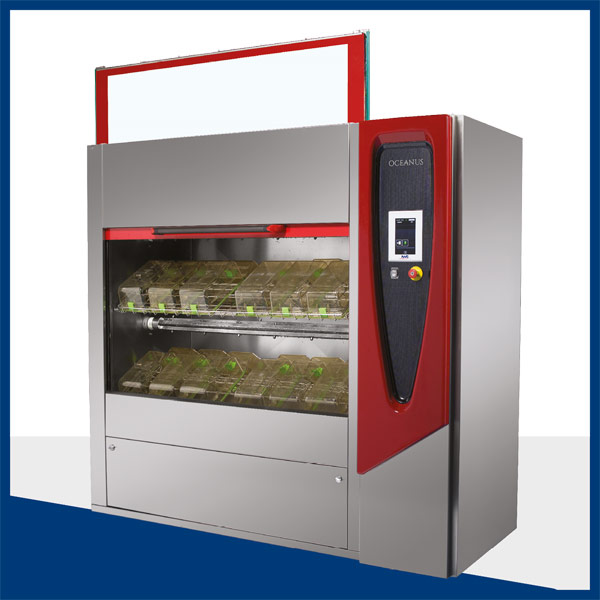 A 5 minutes microbiologically validated cycle, engineered to meet AK KAB and AAALAC requirements, is completing the process ensuring the highest possible throughput.
ADDING QUALITY TO QUALITY
Oceanus comes as standard with:
Completely separate wash and rinse circuits and oscillating arms technology, IWT trademark of proven performance
Wall-to-wall installation capability thanks to the full frontal accessibility
Polaris interface with remote connectivity and usb port for data gathering
A set of options complete the standard configurations, with the aim to simplify installation and utility requirements:
No compressed air through a fully electrically-driven unit
Exhaust conditioning system to get rid of exhaust ductwork.