news
IWT show-room: a Real state of the art Cage Wash Facility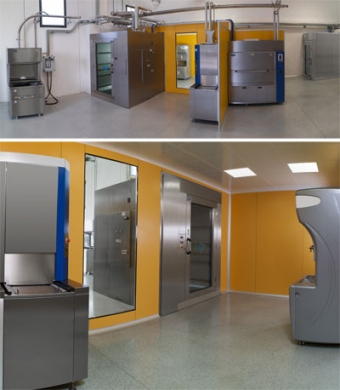 May 2014

After 10 years of continuous and successful operation, we at IWT decided to renovate our training center and in doing that we decided to move away from a simple display of running equipment and stepped up to the next challenge, which was the design and construction of a real state-of-the-art Cage Wash Facility model.
This facility is covering a 300 square meter area and is featuring the following unique elements:
epoxy resin floor tied with walls and ceilings of pharmaceutical standard;
stainless steel ducting and utility supplies with best finishing flanges, cables and connections;
dirty to clean barrier wall featuring cage, rack and bottle wash units all lined up in a pass-through configuration;
large glass view panel built into the vertical wall separation;
additional (clean to sterile) SPF barrier equipped with a decontamination chamber for low temperature surface sterilization;
all furnished with latest solutions for washing, detergent delivery, decontamination and bedding (dirty and clean) handling technologies.
The main fundamentals of such an innovative and ambitious project are to make available to our global Lab Animal community a REAL operational cleaning facility to:
perform tests and validate cleaning and or decontamination procedures on typical or very peculiar loads being used in lab animal facilities, including fish tanks for instance or dirty autoclaved cages;
provide adequate and accessible infrastructure to carry out training of groups of technicians and engineers for which educational sessions have been already promoted and executed;
inspect "hands on" together with architects and constructors a real and modern medium size facility, perfect learning experience in an early stage of a project (both new building or renovation) in order to review together technologies, materials, spaces and best working procedures.
The renovation project was developed during the Autumn, officially started on the 10th of December 2013 and was completed by the 20th of March 2014 according to the approved schedule. The pictures next to this article speak hopefully more than any additional word about the final outcome of the process.
We welcome everybody to visit us and experience yourselves our unique Cage Wash Facility at Casale Litta!