ATLANTIS EASY AND DVC™ STOLE THE SHOW AT AALAS 2015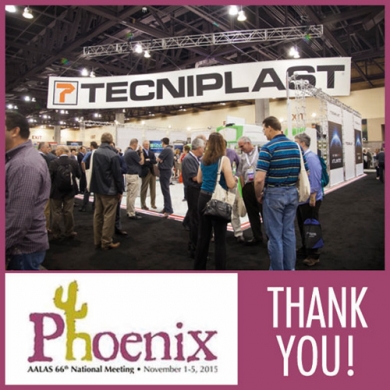 November, 2015

IWT-Tecniplast successfully attended the 66th Aalas national meeting, the leading worldwide event in the Lab Animal Industry which took place in Phoenix from November 1st to 5th.
The new products we launched on the occasion of the exhibition captured the attention of the visitors: many managers, researchers and technicians visited our booth to learn about the features and benefits of our revolutionary solutions.
The EASY version of the Atlantis Cage & Rack washer made its successful debut al Aalas 2015: this IWT equipment, which meets the needs of medium-size facilities, attracted the visitors thanks to its high efficiency, great modularity and flexibility.
Tecniplast DVC™ - Digitally Ventilated Cage also generated great interest among the Aalas attendees. A large crowd of visitors gathered at our booth on Monday morning to witness the unveiling ceremony of this revolutionary caring system that monitors intra-cage conditions and animal activity. "The way we house rodents has changed forever": these were the words that Wayne DeSantis, VP Sales at Tecniplast USA, used during the Unveiling Ceremony to describe how digital technology is impacting the future of housing, research and animal care.
To meet visitors' interest and curiosity, Workshop sessions were also available to the attendees so they could learn about this technology in greater detail.
Tecniplast also introduced the new generation of Class II type A2 Biosafety Cabinet, the Aria Tech48. Certified by TUV-Nord, Tech48 meets the requirements of EN 12469:2000 regulation in terms of safety and performance. Peerless features and advanced technology make this unique BSC dual configuration one-of-a-kind in the market.
Special guests of the exhibition, also the new Interceptor, our revolutionary IVC microbiological environmental monitoring system, and the WiFlow, Tecniplast's newsIVC Air Handling Unit, captured visitors' attention and interest.
Las but not least, Aalas 2015 confirmed that the interest in zebrafish as a research animal model continues to grow. This year we proudly introduced iSpawn-S, a 13-liter water capacity zebrafish breeding system with the flexibility to adapt to research needs. The new product sparked great interest because of its size and ease of use.
We thank all our visitors who provided us with excellent feedback regarding our unrivalled 360° facility solutions.
We are looking forward to seeing you in Charlotte 2016!